Product description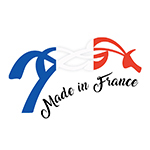 Dressage Saddle Pad - White
Collections Pénélope 
This lovely dressage saddle pad has a thick padding to protect the horse's back from shocks during training. Its cut-out allows the withers to be free. Very comfortable, the saddle pad has a white honeycomb lining that allows air to circulate, absorbs and prevents excessive sweating of the horse. For a better support, two nylon girths prevent it from slipping under the saddle.
Made in France.
The dressage saddle pad is also available in navy.
Horse size (Suitable for horses and large ponies).
Composition : 80% polyester 20% cotton.